Ken Mudget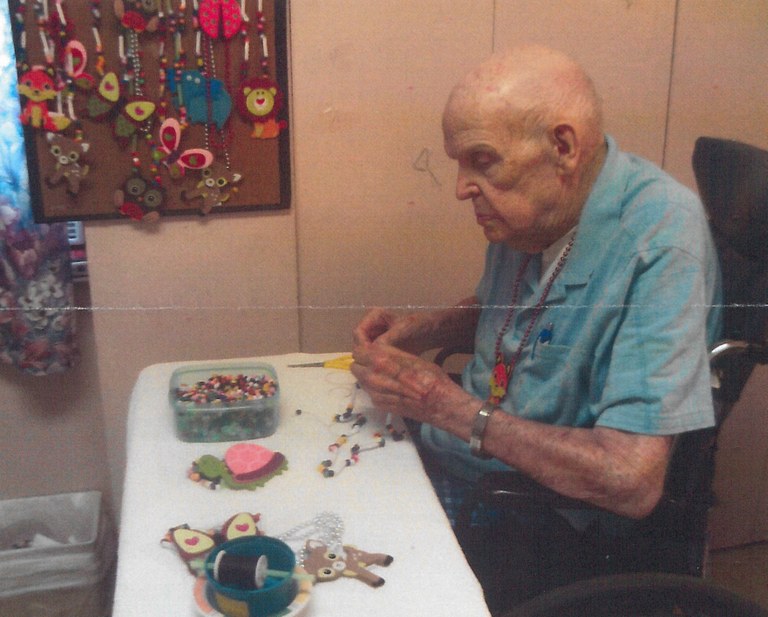 Grandpa Kenny
By: Katie Hanson
Every summer, the White Cloud Community Library has been receiving little, handmade prizes to give out to the kids with little labels on them that say "Ken Mudget" and a corresponding address.  Included in the package of goodies, there are blank thank you cards. Clearly the maker of these prizes wanted and enjoyed correspondence with the recipients.  I wanted to meet the maker.
Ken Mudget is 100 years old and he says his legs don't work anymore, but he's still happy.  He resides in Transitional Health Services of Fremont and participates in activities such as bowling and Bingo.  But most of all, he enjoys making his prizes.  They are necklaces made with beads and string with a little toy attached to each one.  He used to attach little stuffed animals, but Ken says that's getting too expensive.  So with most necklaces, he now attaches a painted, wooden critter.
His two daughters, Judy and Karen, whom he looks forward to visiting with every Wednesday, bring all the supplies he needs.  And then he creates!  Ken estimates it takes him about 40 minutes to make each necklace and that he makes six a day, every day.
He started handing them out to schools and has since expanded to libraries in Newaygo County.  White Cloud holds a special place in his heart though, as he was born and raised here.  "I loved White Cloud and growing up there," Ken says as he recalls locations of houses and other buildings in great detail.  He remembers when the library was Jackson Sharpe Library and was one room.  He attended White Cloud High School, graduated in 1935, and went on to The University of Michigan. 
When I asked what his favorite story was, Ken proceeded to tell me about the football games he played in.  Not only was he a football player, but a member of band as well.  He played the trumpet.  During half time, he and two other players also in band had to quickly change out of their jerseys and put on their uniforms to get back on the field and play their instruments!  He also recalls the day Jack Sharpe, or "Newaygo Newt" spoke at his graduation and it was only then that he and his fellow students realized they were one and the same.
Ken has other connections with the library as well. His sister, Martha Evans, was once the local historian and compiled books and books of information about Newaygo County that are available in our history and reference section.
Ken has been crafting the trinkets for three years now and wants people to know that "I'm glad they enjoy the necklaces, but I want to thank them for the thank you notes I get back." And that although his "legs gave out" and he's a little hard of hearing, he still enjoys every day and feels proud to contribute something that brings smiles to his community.
You can pick up a Ken Mudget necklace at any of our library programs and fill out a nice thank you card for him as well.  White Cloud Community Library will also be working on a pen pal program with Transitional Health Services so that others who would appreciate a letter, will get one too.